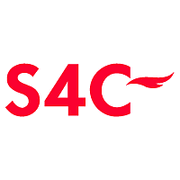 S4C
(Welsh pronunciation: [
ɛs ˈpɛdwar ɛk
], from the Welsh Sianel Pedwar Cymru, meaning "Channel Four Wales") is a Welsh-language public-service television channel based in Cardiff and broadcast throughout Wales. The first television channel to be aimed specifically at a Welsh-speaking audience, S4C is (after BBC One, ITV, BBC Two and Sky1) the fifth-oldest British television channel (Channel 4 was launched in the rest of the United Kingdom one day later).
They helped produce Fireman Sam and Joshua Jones in association with Bumper Films, The BBC and Prism Art and Design LTD. Both programmes were shown on S4C several times, with Fireman Sam still being shown to the present day. They were also responsible for airing several british shows (such as Thomas the Tank Engine and Friends) dubbed in the Welsh language.
Video releases
Edit
S4C Video Classics, a division of the company, released several Joshua Jones VHS tapes in Wales.