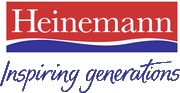 William Heinemann, now commonly known as simply Heinemann, is a publishing group which has published several Joshua Jones books, including the Buzz Books and Picture Storybooks.
It was founded by William Heinemann in 1890 in the UK after Nicholas Trübner's death.
Its parent company for its UK trade is Random House Books. Nowadays, Heinemannn is one of the leading publishers for educational books.
External links
Edit